HR Data Scientist
HR Data Scientist
HR Data Scientist
HR Data Scientist
HR Data Scientist
HR Data Scientist
HR Data Scientist
HR Data Scientist
HR Data Scientist
HR Data Scientist
HR Data Scientist
HR Data Scientist
HR Data Scientist
HR Data Scientist
HR Data Scientist
The Ultimate Data Destination for HR Leaders
HR Data Scientist — 5 Impactful HR Strategies for H2 Planning
HR Data Scientist analyzed the responses of over 100 Chief People Officers to identify the key winning patterns for HR in H2.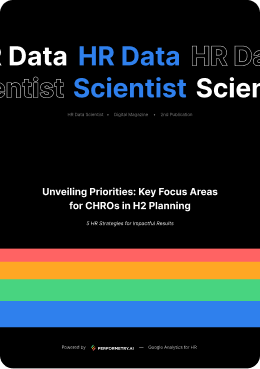 Get notified
of new publications
Subscribe today and be among the first to receive exclusive content, notifications for new publications, and updates on upcoming events.
HR Data Scientist — First issue of our digital magazine 🎉
The HR industry is evolving rapidly, with the Great Resignation, the rise of Generation Z, and the impact of economic turbulence. To stay ahead of the curve, Chief People Officers are realizing the need to be more data-driven. That's why Performetry has launched HR Data Scientist, a digital magazine with a focus on people analytics for HR leaders.

Our first issue features HR statistics from 50 companies that attended Transform, one of the largest HR conferences in the US, held in Las Vegas in March 2023. Download the magazine now and gain valuable insights into the latest HR trends and best practices!